Hallo my Fellow Warcriminals
To do your next War Crime in style Stolzebecks Pawnshop has you covered! It doesnt matter if you follow the true god or if you are a Ceride. Even an not religious person can identify with the Dragon slaying St.George!
Empire Ring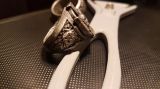 ">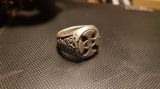 ">
St.George Ring
You have two options to get your hands on these Rings.
First, you wait till you meet me in Game. I am going to sell them for play money in Game, not cheap cause they must be more expensive then cookies, but I will not be ridicilous with the pricing.

Second you order them and pay for them with real money. I have sold them previously and for you girls and guys I will price them lower at 10€ a piece + shipping. The price is the ammount I am willing to take on the trouble of doing the sell and included are of course some materials and so on.
Shipping in Germany 3€ , other countries 7,30€ both in a protective envelope.

To keep an overview of the orders and make shipping easiyer I have created a Google Document. If you want to order a Ring for real money use this.

https://docs.google.com/forms/…v3oKv_AxzK07N_lPw2iTR144o
If you want to buy a ring with play money then you can just leave a comment here and write down the Code of the Ring. This increases your chances of me having one to sell to you in the next game.